Dementia series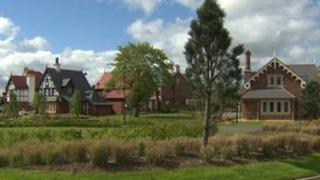 One of the biggest challenges facing the health service is where to accommodate older people, especially those suffering from dementia.
While it is a problem now, the issue is expected to get a lot worse as the number of people aged over 65 is anticipated to increase by 42% in the next decade.
That means the government is going to have to provide accommodation to suit a wide range of social needs - including those who require 24-hour assisted living and those who need occasional care at home.
So what are the choices?
Under Transforming Your Care, the government's roadmap for how health services are to be developed in the future, the plan is that more care should be delivered to people at home rather than in hospital.
But for that to happen, homes will have to be adapted to cater for individual needs. This is a major problem, as at present the health service has neither the time nor the resources to deliver such care.
A private developer in Northern Ireland, however, believes he may have one solution with his idea of a "retirement village".
David Law, who opened the Ballantine Garden Village near Lisburn, said older people still want to enjoy their independence.
"Today's older people are still very active, they want a modern, comfortable home that in time can be adapted to suit their health, for instance requiring a chair-lift, even a bedroom eventually moving downstairs," he said.
Ballantine Village is Northern Ireland's first bespoke retirement development.
Currently there are three so-called retirement houses in the development, which in time will include shops, a crèche, coffee shop and a doctor's surgery.
There are a variety of houses, including bungalows and three-storey homes which could mean families and extended families could live close to each other.
While people can purchase and move in at any age, the accommodation can be adapted so, when required, the living room can be converted to a bedroom or bathroom on the ground floor.
With a straight staircase and large landing, a stair-lift can be adapted when managing the stairs becomes too difficult to handle.
Residents Colin and Doris Cromie are in their 70s. While they can still drive and manage the stairs they recognise in time both will become a challenge.
"I like it that it's small, it's convenient and it's handy for the town," Doris said.
"I wouldn't be fearful, but I just like to be prepared for the future for the rest of the family to know that we're settled and content."
Her husband Colin said they were attracted to the house by "the fact that it had all the facilities that we felt we would ever need for the future".
"None of us know what tomorrow brings, so it's good to be prepared."
Residents can also sign up to the fold tele-health and tele-care services which the local health service is promoting.
But this standard of living requires finance.
Developer David Law said: "My big idea is to have a Northern Ireland co-ownership scheme, empowered equity release.
"That is that buyers can have the capital to top up their care needs using Northern Ireland co-ownership.
"It's a trusted model and it just provides a little bit extra liquidity so that people can stay in their own homes and have that little bit of extra cash to top up their care needs."
This type of care is hardly affordable to everyone.
Instead most people will receive help from the public sector including having their own homes adapted.
Mullan Mews is a supported housing scheme for people with dementia off the Woodstock Road in east Belfast. It allows people to remain active and independent members of their community.
Residents Jean Kiddell and Gretta Knipe both have dementia. They say Mullan Mews is home from home, giving them the independence they still crave.
"You have your independence, you also are allowed, within reason, to go a walk up the road to the shops - as long as you say where you're going, there's no restrictions," Jean said.
"It couldn't be a nicer place if somebody had chosen it for me."
Gretta said she would not want to go into a retirement home.
"This here is just like a home from home and they talk to us as adults, not as children," she said.
As tenants they are fully involved in community activities including the local church. They can still do their own shopping as local shopkeepers are aware they are residents in a supported living scheme.
According to the Belfast Health Trust, Mullan Mews offers people the choice to remain in their community in a shared house environment but maintaining their own front door.
Katie Campbell of the trust said: "The whole ethos of supported housing is about promoting independent living, it's also about promoting social inclusion and quality of life.
"Tenants here go out shopping on a daily basis, they engage in social and recreational activities with their friends and their families."
Thelma Abernethy of Alzheimer's NI says older people want choice and it is up to the government to provide it.
"People are telling us that they need a range of support mechanisms," she said.
"We need to ensure that there's a full range of opportunities for people right across Northern Ireland and that there's no postcode lottery of services.
"All of the trusts need to be developing the range of models of accommodation."