Turkey murders: Recep and Eyup Cetin trial continues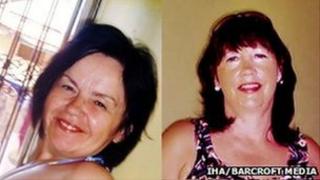 A father and son charged with murdering two women from County Down in Turkey in August 2011 have appeared in court in the latest stage of their trial.
Recep and Eyup Cetin are accused of killing Marion Graham and Cathy Dinsmore, who were stabbed to death.
Recep Cetin's lawyer asked the court to send the defendant to a psychiatric hospital to be assessed for mental illness.
The lawyer for the Graham and Dinsmore families is to object to the request.
The lawyer, Baris Kaska, will make a written application to the four judges hearing the case.
The court, sitting in Izmir, also heard that mobile phone signals confirmed that a witness, who claimed to have seen Recep and Eyup Cetin near the scene of the murders, was in the area where the victims' bodies were found.
The court asked for a more detailed report on the phone signals from an expert.
Come forward
The witness, who testified anonymously via video link in a previous hearing, has said friends would back up her account.
So far the friends have not come forward, and on Wednesday the judges again called for them to give evidence.
Marion Graham, from Newry, and Cathy Dinsmore, from Warrenpoint, both in their 50s, were holidaying together when they were murdered.
Their bodies were found in a wood on the outskirts of Izmir, 70 kilometres from where they were staying in the resort of Kusadasi.
Recep Cetin, 22, and his father Eyup, are being tried in a series of hearings held a number of weeks apart.
Recep Cetin previously told the court that he killed the women, but he said his father had nothing to do with it.
The next hearing has been scheduled for 8 July.