Norman Moffatt murder trial hears of alleged confession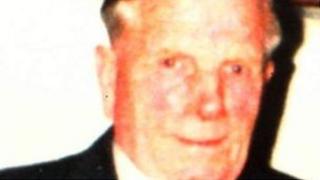 A man accused of killing a pensioner 12 years ago allegedly confessed to the stabbing in 2006, a court has been told.
Norman Moffatt, 73, was stabbed as he walked home along Railway Road in Coleraine, County Londonderry, in January 2001. He died two months later.
James Alexander McCook, 43, with an address at Stonemill Terrace, Stockport, is charged with murder. He denies the charge.
His trial opened on Wednesday.
James McCook is originally from Northern Ireland but was arrested in Stockport last year.
The prosecution has begun outlining its case to a jury of six men and six women at Antrim Crown Court.
The prosecution told the jury they would be hearing from a number of witnesses over the coming days, including the police investigation team and people who saw Mr Moffatt after he was stabbed.
The prosecution barrister said one witness, Martha Brown, who claims to know James McCook well, has alleged that he confessed to her that he stabbed Mr Moffat.
The jury heard from crime scene investigators and have been shown maps of the area where Mr Moffatt was walking when he was stabbed.
The case is expected to last three weeks.