Nama deal safeguards 300 Botanic Inns jobs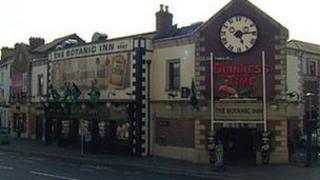 A deal involving the Irish Republic's assets recovery agency, Nama, has safeguarded 300 jobs in some of Belfast's best known pubs.
But the future of another 300 staff is undecided as other bars in a sister company are to be put up for sale.
The Ulster Bank moved against the Botanic Inns Group and called in the administrators last week.
But the deal means the man who ran all the bars, will remain in charge of five of them and one hotel.
Steven Magorrian will continue to run six licensed premises after the leases on those properties were successfully re-negotiated with Nama on Monday night.
The bars he has retained are the Botanic Inn, Madisons Hotel, the King's Head, the Northern Whig, the Elms and the Fly.
Neither Mr Magorrian, nor anyone from the new company, Horatio Taverns Ltd., which has taken control of the six well-known establishments, was available for comment.
However, a handful of other bars - the Apartment, the Kitchen Bar, Ryans, McHughs, The Parador, Molly Browns and Denvir's Hotel in Downpatrick - which were in a different company called Kurkova, remain in administration while a new owner is sought.
It is understood that PWC was involved in negotiations with the Ulster Bank and Nama for all the pubs to remain under the same management, but the Ulster Bank put both companies, containing all the bars, into administration.
It is believed the Ulster Bank was owed in the region of £6.5m.
Nama, which owned the bars in the Botanic Inns Group part of the company, agreed to draw up new leasing arrangements to allow Mr Magorrian to continue to run them.
The appointment of an administrator by the Ulster Bank means the other pubs in the group, contained in the company Kurkova, are currently being run by the administrator KPMG.
Nama controls billions in property loans passed on by Irish banks. Its objective is to obtain the best achievable financial return for taxpayers in the Republic.
The joint administrators, John Hansen and Stuart Irwin of KPMG, said they were confident of achieving a successful sale of these venues in due course and of also securing the continued employment of the remaining 300 plus staff.
Industry sources believe they may be sold off one at a time.