Dementia series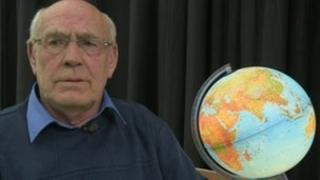 John McCready did not know he had Alzheimer's until he saw his GP, at his wife's suggestion.
"When he said I had it, I couldn't believe it," said John. "At the beginning I didn't know what was going to take place. I was timorous."
John said his wife supported him, but some friends did not.
"Some of the boys I used to run about with years ago drifted off because of the name Alzheimer's.
"We were all friends and these boys didn't understand and it was upsetting."
However, for the last year and a half, John has made new friends with other men with dementia.
A group of five of them from Antrim and Ballymena meet twice a month to socialise or take part in various projects. It is important that they can talk about their illness.
One of them, John McErlane, was diagnosed with dementia at the age of 52.
"I was forgetting where I left my glasses two minutes after I left them down. I was leaving my coat behind and generally doing things that were not in my character.
"I went to the doctor and it went from there. I had dementia. It was the shock of my life. I was devastated. I thought 'this doesn't happen to a fellow at 52. This happens to people in the twilight of their years'. Dementia was way in the distance."
John said people with dementia experience depression, self-denial and withdrawal that no-one except others suffering with the same illness would understand.
"That is why this group is so valuable. We can sit and discuss what is going on with our dementia. It's part of my life now."
John does not talk about it to other people.
"I don't bother with a lot of people now. I choose my company. To someone who fears they might have dementia or has just been diagnosed, I couldn't tell them to look at the positive side, because there is no positive side. There is no cure. This isn't going away. This is going to get worse.
"My coping mechanism is to take some small interest, no matter what it is. I look forward to these meetings every two weeks
"I see my future five or ten years down the line, sucking a lollipop. I mean, not knowing who I am or where I am at. I am conscious of that 24/7."
John takes medication that slows the process down. He has good days and bad days.
"I struggle with names and addresses of people. Sometimes the frustration builds up. You're trying to explain things that you know but can't put them together."
Another member of the group is Tom Foster.
Before he was diagnosed with dementia he knew that there was something wrong but did not understand what it was.
He said he felt empty and suicidal.
"When it first happened, I lost all trust in people. They could tell you anything and you wouldn't know if it was true or not," said Tom.
"There are days now when I might not speak to my wife for two days. There is nothing in my head for me to talk to her about. It is just empty."
All of the men in the group say their meetings are invaluable.
They can talk openly about dementia in a way they cannot do outside.
However, the men also said that the rest of the world should be more aware of people in their situation.