London buses made in Ballymena travel to Manhattan with PM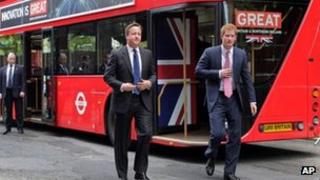 One of London's new buses will carry Prime Minister David Cameron and Prince Harry through New York later.
The double decker, made by Wrightbus in County Antrim, has been transported to Manhattan for an event designed to promote Britain.
Two of the buses are to tour the world as part of the 'Great' campaign that the Prime Minister launched in 2011.
The publicly funded campaign is attempting to promote Britain as a good place to invest, visit and study.
Last week, London Mayor Boris Johnson opened a new Wrightbus plant in Antrim where the chassis of the new London bus is being made.
Mr Johnson said: "Aside from its Hollywood blockbuster good looks, this bus offers an unparalleled passenger experience. It also demonstrates that we, as a nation, remain a great force in design, engineering and manufacture."