Angelina Jolie double mastectomy: Conlon sister reflects on her family experience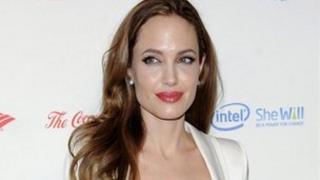 A Hollywood actress's decision to have surgery to remove both of her breasts in order to reduce her risk of cancer may seem a drastic measure to some.
But the choice Angelina Jolie has made was easy to understand for one family in Northern Ireland.
Like the film star, several members of the Conlon family have the rare BRCA 1 gene, which significantly increases the risk of breast and ovarian cancer.
Five of the sisters opted to have preventative double mastectomies.
Dilemma
One of the Conlon sisters, now using her married name Caroline McErlane, had elective surgery in 2008.
She was a fitness fanatic in her 40s when doctors removed her breasts, ovaries and fallopian tubes.
Five years on from her operations, Caroline said she had sympathy for the actress and the dilemma she faced, following the death from cancer of Angelina Jolie's 56-year-old mother.
"That's very tough and I suppose she's been obviously close to her and witnessed that," Caroline told BBC Radio Ulster.
She added that in her own experience, when cancer comes so close to your family, opting for preventative surgery becomes a "relatively easy decision to take".
"The thing about knowing that you have the gene is that you have a choice, which is a luxury that many women don't have," Caroline said.
"I'm aware she has children also, and hopefully she feels that she's at the stage in her life where it's not such a big decision to make."
'Nasty statistics'
The Conlon family are originally from County Armagh, but Caroline now lives in Strangford, County Down.
She told Radio Ulster there had been a "pretty strong pattern" of breast and ovarian cancer in her family, but when the second of her five sisters developed cancer about six years ago, doctors recommended that they all undergo genetic tests.
The five women have two brothers, one of whom was found to be a carrier of the gene. It means that out of seven adult Conlon siblings, six of them tested positive for BRCA 1.
"They are pretty nasty statistics, considering its a 50-50 chance," Caroline said.
"It didn't all come together, it came one at a time but it really felt like you were in a bit of a boxing ring, and there was one punch landing after the other," she recalled.
At the time of the tests, the Conlon sisters were told that as carriers there was a 75% probability they would develop breast cancer and a 50% chance of ovarian cancer.
Caroline said that when she tested positive, she "actually welcomed the opportunity" to take action in the form of elective surgery.
'No-brainer'
"When you cope with the actual news, the decision becomes very, very easy because we've watched how difficult it is to come through treatment for cancer.
"For me that was really a bit of a no-brainer, because with the prospect of constantly feeling 'will it be this morning, when will I find the lump?' I just thought 'no'.
"An of course as a parent, as a mother - and the same with Angelina - you think of your children and you say 'well, whatever I might have to go through I want to be able to be there for my children'.
"I want to reach the landmarks with them, I want to celebrate life with them and I want to do it with a positive frame of mind," Caroline added.
Following her own surgery, Angelina Jolie wrote in Tuesday's New York Times: "My chances of developing breast cancer have dropped from 87% to under 5%.
"I can tell my children that they don't need to fear they will lose me to breast cancer."
Caroline agreed that looking forward to how BRCA 1 may affect the next generation was "another big question for people in our situation".
Positive future
"We can deal with what we have to deal with now ourselves, but we look towards our children.
"This is a hereditary phenomena and I know that the cancer unit in Belfast City Hospital is doing some amazing work there, but that's where we really need to focus our energies.
"We really need to get them pushing forward and finding ways to keep the next generation safe from this gene."
Half a decade on from taking radical action to prevent cancer, Caroline said her family was looking forward positively to the future.
She said the Conlons kept in close contact with staff at Belfast City Hospital's cancer unit and added that its researchers were making "great strides".
"They are looking at protein markers and such like and they are getting much closer to an easier, more accessible test, whereas when we were going through the test, the consultant described it as looking for a misspelling in the Yellow Pages, it's so difficult to pinpoint.
"But now they are getting much closer and much more specific to where the mutation is actually located and it's a more efficient test," Caroline added.
Support
Having so many family members affected by the threat of a deadly disease was difficult for the Conlons, but Caroline said it also meant they were able to share the burden.
"We are a very open family. We do talk a lot, we do share a lot but I am mindful of other people, even people who are relatively close to us who, for one reason or another, didn't have that same luxury in support."
She urged anyone affected by BRCA 1 in Northern Ireland to seek out a local support group.
"Its a very, very lonely journey to be taking when you have a sense that you are on your own."