Shane Lynch to stand down as utility regulator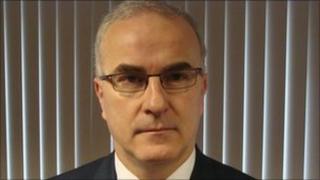 Northern Ireland's utility regulator Shane Lynch has announced he is standing down at the end of October.
Mr Lynch has been been in the job since January 2011.
He said: "It has been a privilege to lead the work of the utility regulator and I hope that the changes made during my tenure will serve customers well in the future."
The process to recruit Mr Lynch's successor will begin shortly.
"Before my departure, I hope to have substantially delivered on the objectives of our corporate strategy, including making a full contribution to the Competition Commission's determination of the NIE price control," he said.
"I also want to allow enough time for my successor to participate in the formulation of our next five-year corporate strategy, effective from April 2014."
Bill Emery, chairman of the utility regulator, said: "On behalf of the board I would like to thank Shane for his work in guiding the utility regulator as chief executive and for all that he has achieved over the last four years.
"Building on his previous industry experience, Shane has brought a valuable focus on transparency, accountability and delivery to our organisation."
A mechanical engineering graduate from Queen's he was managing director of Kilroot power station and then development director for owners AES before he took the regulator job.
Ratings agencies have previously been critical of the regulatory environment in Northern Ireland.