John O'Dowd in talks with UK education secretary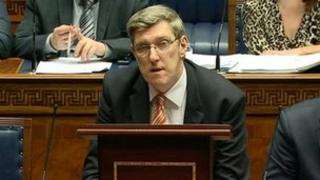 Northern Ireland Education Minister John O'Dowd has discussed proposals to change A-levels and GCSEs in England with the Education Secretary Michael Gove.
Mr O'Dowd said it was one of a number of issues raised with Mr Gove.
Last year, Mr Gove announced exam changes without consulting with Mr O'Dowd or his Welsh counterpart.
Mr O'Dowd said both ministers told Mr Gove the importance of keeping them informed of future policy decisions.
The meeting in London was also attended by Welsh Education Minister, Leighton Andrews.
Speaking after the meeting, Mr O'Dowd said it had been "very useful".
"I welcomed the opportunity to discuss key issues such as the development of GCSE, AS and A-level examinations, the regulation of three country qualifications and arrangements for sharing information about policy development which affect other regions," he said.
'Reiterate'
"Mr Gove has previously made announcements about the future of examinations in England without any form of consultation with the administrations in Wales or the north of Ireland.
"I had previously expressed my disappointment and concern about the lack of consultation and today's meeting provided an opportunity to reiterate this message and outline the importance of keeping both myself and minister Andrews informed of any major policy decisions and respecting the concordats that are in place."
Mr O'Dowd said he welcomed the "commitment" from Mr Gove that in future there would be a process of engagement and consultation before any further decisions or announcements about the future of examinations were taken.
A Welsh government spokesperson said the ministers had enjoyed a "frank but cordial discussion" focusing on the three-country agreement on qualifications.
Last year, Mr Gove announced the GCSE exam in England would be replaced by a qualification called the English Baccalaureate Certificate.
The proposals to change the exam system in England also include plans for a single end-of-course exam and one exam board for core subjects.
Pupils will take the first new exams - in English, maths and sciences - in 2017.
Mr O'Dowd has previously said he has no objection in principle to changing A-levels or GCSEs and has ordered a review of them in Northern Ireland but said changes in England should take into account the repercussions for pupils in Northern Ireland.