Hastings Hotel Group triples its profits in 2012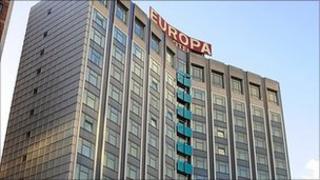 The Hasting Hotels Group has more than tripled its annual profits according to its 2012 accounts.
Profits at the group, which controls six hotels in Northern Ireland, including the Europa in Belfast and the Culloden in Holywood, were almost £2.5m compared to £742,000 in 2011.
Turnover, including joint ventures, was £37.6m compared to £35.1m in 2011.
The directors said they were "satisfied with the progress" given the "difficult trading environment".
The hotel sector in Northern Ireland has suffered during the recession with some businesses closing or being placed into administration.
Hastings has managed to remain profitable throughout, albeit at a lower level.
In 2012, the company's shareholders received a dividend of £368,000 up from £276,000 in 2011.
Hastings also owns half of Landmark Investment Limited, the company which controls the Merrion Hotel in Dublin.