179 new jobs at Dungannon meat plant Linden Foods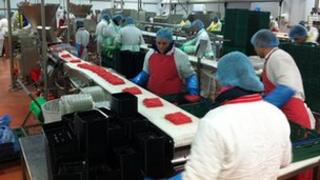 One hundred and seventy-nine new jobs are to be created at a County Tyrone food plant.
Linden Foods, a meat processing company in Dungannon, is investing £5m to grow its business in Northern Ireland.
It is being supported by Invest NI with funding of £520,000.
Enterprise Minister Arlene Foster said: "This investment is very welcome news for the food industry, which is a key contributor to Northern Ireland's economy."
"The 179 new production and managerial positions, to be created in Dungannon with support from the jobs fund, will generate over £2.5m annually in additional salaries," she said.
"This is a fantastic boost to the local area, the local community and to the wider Northern Ireland economy."
Trevor Lockhart, chairman of Linden Foods, said the investment underlined his company's commitment to Dungannon.
"The support from Invest NI through its jobs fund will allow us to create the workforce we need to meet the demand for our range of new and innovative products among export customers and enable us to cement our leading position within the meat processing industry," he said.
Two years ago Linden Foods opened a new purpose-built facility close to the company's main processing site at Granville.