Corporation tax move would have to benefit Treasury - Boris Johnson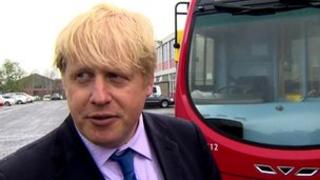 The mayor of London has said the only way to convince the Treasury to devolve corporation tax powers to Stormont is to show the Exchequer that it would save it money in the long-term.
Devolving the tax powers has all-party support at the NI Executive.
However, Prime Minister David Cameron said there would be no decision on devolving them until after the Scottish referendum in 2014.
Boris Johnson said any deal needed to benefit both sides.
"The way to make the argument fly is to say that if you devolve us this power or this tax, we will grow the economy in such a way as to deliver you more revenue," Mr Johnson told the Sunday Politics programme.
"It's got to be about getting the Treasury more money, otherwise you're not off first base."
First Minister Peter Robinson has previously said that getting the powers would be a "game changer" for the Northern Ireland economy.
However, Deputy First Minister Martin McGuinness has said he does not believe Mr Cameron had any intention of devolving them.
The UK corporation tax rate is currently 23% and is set to drop to 21% next year. However, supporters of devolving the tax powers want to reduce it to the same rate as the Republic of Ireland - 12.5%
The executive would have to compensate the Treasury for any tax reduction by handing back a portion of its annual budget.
However, supporters believe the economic boost to Northern Ireland from inward investment would outweigh the cost to the public purse.