Nesbitt pulls out of SF conference in protest at O'Dowd remarks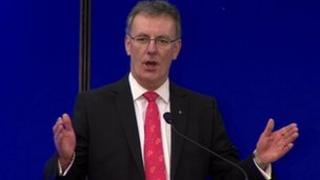 The Ulster Unionist leader says he is pulling out of a conference organised by Sinn Fein in protest at remarks by one of its ministers, John O'Dowd.
Mike Nesbitt had agreed to speak at the event next month but changed his mind after Mr O'Dowd dismissed complaints from the UUP, SDLP and Alliance.
They complained they had been kept in the dark about a shared future plan, to which Mr O'Dowd responded: "So what?".
However, Mr O'Dowd has since said he had not meant to insult other parties.
'Disaster'
The Sinn Fein education minister said he made the comment during an "ill-tempered" TV debate and has appealed to Mr Nesbitt to reconsider his decision to pull out of the conference.
The City of Equals in an Island of Equals conference is due to take place in Belfast on 7 June.
The shared future proposals - aimed at ending sectarianism and promoting better community relations in Northern Ireland - were launched on Thursday by the first and deputy first ministers Peter Robinson and Martin McGuinness.
But Mr O'Dowd's "so what?" comment led to a row on BBC One's The View programme later that evening.
On Friday, Mr Nesbitt, who described the situation as "a disaster", said he would withdraw from the conference in the Europa hotel unless Sinn Fein distances itself from the remarks.
'Damage is done'
He told the BBC: "I'd given a provisional 'yes' to giving a keynote address at a conference on the future of Belfast organised by Sinn Fein and I was looking positively at that.
"But given the remarks by John O'Dowd, the 'so what' which tells you all you need to know about what he, at least, thinks about the Ulster Unionist Party and the other two (parties) which are not at the centre of government, unless that's fixed, the damage is done.
"I can't fix it. Unless it's fixed I can see no way that I can participate in the Sinn Fein event at this stage given those remarks."
Mr Nesbitt informed party members of his decision by email on Friday afternoon.
He told them his decision to take part in the conference had been "influenced by the need to demonstrate a willingness to build a shared future, and my determination to ensure our views are not lost".
However, speaking on the BBC's Evening Extra programme on Friday, Mr O'Dowd said: "I certainly did not mean to insult the political mandate of the Ulster Unionist Party or any other political party that sits round the executive or indeed has seats in the assembly, that was not my intention."
'Difficulties'
The minister said he was trying to express his view that the shared future process was more important than any political party or individual politician, and he appealed to the UUP leader over his threat to boycott the conference.
"I would appeal to Mike to think about it again. I appreciate the decision he had taken to come to the conference and the difficulties that may have caused for him," Mr O'Dowd said.
"I must certainly don't want to put any barriers in the way of the leader of the Ulster Unionist Party coming into a Sinn Fein organised conference," he added.
Meanwhile, the DUP has queried the reasons behind Mr Nesbitt's decision to pull out from addressing the Belfast conference, which it described as a "Sinn Fein united Ireland event".
Strangford MLA Simon Hamilton said: "Mike Nesbitt has informed the world that he will not now attend a Sinn Fein conference because of the words 'so what'.
"This is an event aimed at building a united Ireland. The question should not be what has caused him to pull out, but why he ever agreed to lend credence to the event in the first place."