President Obama to visit Belfast during G8 summit in Northern Ireland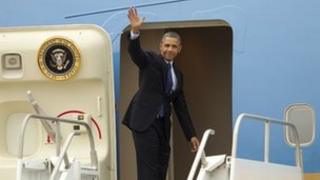 US President Barack Obama is to visit Belfast next month, when he arrives in Northern Ireland for the G8 summit.
Details of the president's first visit to the city were confirmed by the White House in a statement on Friday.
It said Mr Obama would use the visit to "engage with the people of Northern Ireland and highlight the hard work, dialogue, and institutional development they have undertaken together".
The G8 summit is due to take place in County Fermanagh on 17 - 18 June.
The president's wife Michelle is due to accompany him to the UK during the summit but details of her itinerary had not been released yet.