Fr Conleth Byrne gets suspended sentence for £145,000 fraud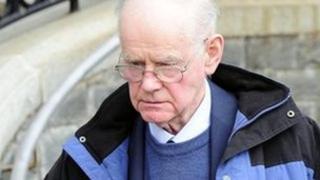 A Catholic priest who admitted giving £145,000 of church money to a woman has been given a two-year sentence suspended for three years.
Fr Conleth Byrne, 78, took the money from church funds in the parish of Loughinisland, County Down.
The money was taken over a 19-month period between 2008 and 2009.
The priest, who is now retired, pleaded guilty last month to fraud by abuse of position just before his trial was due to begin.
About £45,000 has been repaid and a judge has ordered Fr Byrne to repay the outstanding £100,000.
The judge said it had been agreed that there were no favours to Fr Byrne himself, "ruling out either monetary or sexual benefits".
The court was previously told that Fr Byrne began giving money after the woman called to his parochial home claiming to be in "dire need" of financial help.
The court heard it appeared Fr Byrne acted "out of charity" and a "high degree of naivety".
A statement issued by the Diocese of Down and Connor on Friday pointed out that the discrepancy in the parish records was discovered by staff from the Down and Connor diocesan office in July 2009 as part of their examination of the financial records.
It added that the situation was reported to the police and both the diocese and Fr Byrne "co-operated fully" with police investigations.
"Fr Byrne has already made partial restitution to the parish of Loughinisland and he intends to continue to do so," said the statement.
"This situation has been a cause of great sadness for the people of Loughinisland, for the Diocese of Down and Connor and for all the individuals affected by it.
"At this time, we keep in our prayers the parishioners of Loughinisland parish and all who have suffered in any way as a consequence of this regrettable situation."