City of Culture company denies unionist claims of 'hiding UK title'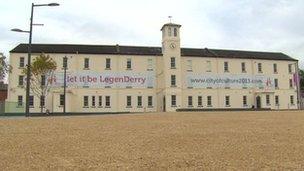 The company running Londonderry's year as UK City of Culture has denied unionist claims that it is trying to hide the "UK" part of the title.
DUP and Ulster Unionist members of the culture committee raised the issue at Stormont this week.
They claimed that the UK was not being mentioned in the promotion of most events.
The DUP's William Humphrey said the UK part of the title had been "completely emasculated" from the City of Culture.
Ulster Unionist Michael McGimpsey said there had been a process of "political point-scoring".
However, the culture company running this year's events in Derry has denied any attempt to hide the full title.
It says eight different logos are used in promotional material and some of them do include a mention of the UK.
'Inclusive'
A Culture Company 2013 spokesperson said: "Derry~Londonderry is the first ever UK City of Culture.
"Culture Company works extremely diligently to promote the 2013 programme within Derry~Londonderry, across Northern Ireland, in the rest of the UK, in the Republic of Ireland and around the world.
"Culture Company branding includes eight different logos any of which can be used by different organisations as they see fit. That includes an Irish language version, an Ulster-Scots version, a UK City of Culture version, a City of Culture version as well as a Derry/Londonderry version and several other variations.
"Since the outset our primary objective has been to produce an inclusive and accessible programme of international standard and quality."
Meanwhile, the company continues to seek extra funding to pay for its programme of events.
'Deficit'
Last week, it emerged it has a shortfall of more than £500,000, but it has now been confirmed that Derry City Council has agreed to cover almost one third of the outstanding amount.
A council spokesperson said: "We can confirm that Derry City Council has pledged £165,000 to underwrite the current deficit.
"This is in addition to £500,000 which was pledged by Derry City Council over the past few weeks to provide additional support for City of Culture.
"The Culture Company chief executive has assured stakeholders that she is confident she can raise the funds necessary."
A number of major events are coming up in Derry including the Radio One Big Weekend later this month.