Man charged with child sex assault in Lurgan refuses to enter dock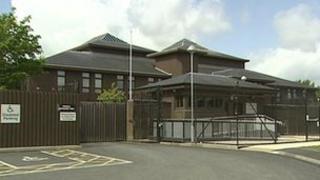 A bail hearing of a man charged with abducting and sexually assaulting a child has been held in his absence after he refused to enter the dock.
David Paige, 42, gave his address as a hostel in Belfast, but he has been living in Lurgan, County Armagh.
He was restrained by prison officers as he tried to turn away from the dock at Craigavon court.
He has also been charged with breaching a sexual offences prevention order.
The charges relate to an incident in Albert Street, Lurgan, on Tuesday.
The district judge later agreed to hear the bail application in Paige's absence.
A detective constable alleged Paige had intercepted a girl as she was walking home from a friend's house on Tuesday, persuaded her into his house at Albert Avenue and then sexually assaulted her.
She said the girl had told the police how the accused had put out his arms, picked her up and hugged her in the street. It was claimed he then told her to go round to the back of his house where the door was open.
The court heard the girl then told officers how she had been assaulted.
It heard the girl was unhappy with what was happening and she said she wanted to leave.
She claimed David Paige then got "very angry" and told her that if she said to her mother and father what had happened she would never be allowed back into his house.
The court heard the girl told her father who contacted the police.
The detective said that the windows of Paige's home were smashed that same evening and he was removed by the police for his own safety. He was later arrested.
Paige is already the subject of a sexual offences prevention order that forbids him having contact with children.
He is also charged with breaching the conditions of that order.
Bail was refused and Paige is due to appear again via video link next month.