Boris Johnson opens Wrightbus plant in County Antrim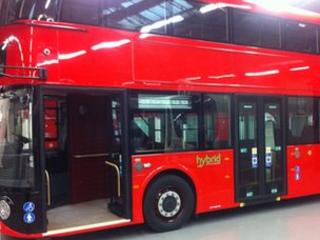 The London mayor, Boris Johnson, has opened a new Wrightbus plant in Northern Ireland, where part of the new bus for London is being built.
The County Antrim facility will produce the chassis for the hybrid engine double decker.
Wrightbus are supplying 600 of the vehicles to London in a contract worth more than £200m.
Forty people are currently employed at the chassis plant in Antrim, but this is expected to increase to 90 staff.
The new bus has a design similar to the old Routemaster.
Some have nicknamed the vehicle the Boris bus.
Eight of them are already in use in London and by the end of June, route 24, which passes Parliament and Trafalgar Square, will use the new vehicles exclusively.
'Good value'
Each bus costs about £354,500 and has an estimated lifespan of 14 years.
Boris Johnson said he believed they were good value for money.
"We will ensure these buses more than earn their keep over the next few years," he said.
"By keeping them in harness in the capital for the entirety of their useful life, we will be extracting every last drop of value out of them."
Transport for London (TfL), the public body that manages transport in the capital, said the new bus is the greenest diesel electric hybrid bus in the world.
TfL estimates the 600-strong fleet will reduce carbon dioxide emissions in the city by almost 20,000 tonnes a year.
The bus features three doors and two staircases that are intended to speed up the process of getting on and off the vehicle.
'Hollywood blockbuster'
It also has the famous Routemaster open rear platform that will allow people to "hop-on" when a conductor is on board.
It is expected to cost an additional £37m a year to employ conductors on the buses.
Mr Johnson said the design deserves much praise.
"Aside from its Hollywood blockbuster good looks, this bus offers an unparalleled passenger experience and is helping to improve the capital's air quality," he said.
"It also demonstrates that we, as a nation, remain a great force in design, engineering and manufacture.
"They are a bit of cutting-edge British technology and they are incredibly popular with people in London."
The vehicles will be delivered over the next three years.