HMS Caroline: Living, floating history in grey steel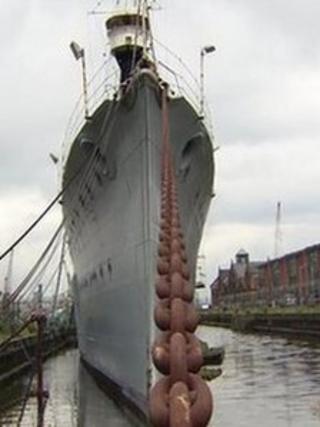 Stepping onto the grey, rain-swept decks of HMS Caroline was like taking a step back into history.
The last surviving ship from the Battle of Jutland in 1916 has been tied up in Belfast for 90 years.
With the exception of her guns, most of the original fixtures and fittings remain intact, from the huge boilers in the belly of the ship to the crow's-nest towering above her bridge.
Stretching for nearly 450 feet along the quayside, Caroline has the sleek lines and razor-sharp nose of a sea-going greyhound, which is precisely what her designers intended.
In her day Caroline was among the fastest ships of her type at sea.
With a top speed of nearly 30 knots her job was to sail out close to where the enemy was expected to be and, once spotted, race back to inform the rest of the Royal Navy fleet.
The interior furnishings were removed long ago for safekeeping and will be returned once the ship is restored as a floating museum.
Nowadays the interior décor is dominated by the colour grey, which adorns the steel-riveted walls and bulk heads and passageways.
Her 100-year-old mahogany cabin doors remain in place as do the basic amenities including the heads - toilets - and the galley cooker. This cast-iron contraption cooked meals for a crew of 300 in a room about the size of today's average kitchen.
At the stern is the emergency steering position known as the tiller flat. This is a steel, coffin-shaped room where about 15 sailors and an officer would be locked inside during battle.
If the bridge took a direct hit and the helm was knocked out, the men in the tiller flat would manually turn huge wooden wheels attached to the rudder to steer the ship.
Veteran
A few decks above are the crew's spartan living conditions. Once again metal plating and huge steel rivets are the fashion of the day with a little bit of luxury in the ward room - carpet on the floor.
Footsteps echo as you walk through the dimly-lit galleys and passageways and it is easy to imagine the ghosts of old sailors flitting past the open, watertight doors.
Daylight struggles to get through some of the salt-encrusted portholes. Where it does it splashes onto the odd remnant of soft furnishing be it a curtain, a cushion or a silk shaded wall light.
But this veteran light cruiser was no passenger liner. HMS Caroline was a ship built for war and to war she went.
If successful in getting the full £12m of Heritage Lottery Funding needed to turn her into a 21st Century floating museum, the story of those battles will be relived once again for generations to come.