Harry Gregg says Sir Alex Ferguson saved Manchester United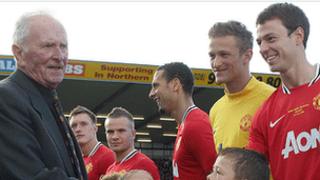 Former Manchester United goalkeeper Harry Gregg has said Sir Alex Ferguson saved the club when he took over in 1986.
Gregg, played under Sir Matt Busby and was hailed as a hero in the aftermath of the 1958 Munich air disaster.
He was reacting to Ferguson's announcement that he was to retire as manager of the Old Trafford club.
"He rescued an institution," Gregg said.
"That's exactly how I see it.
"I was fortunate enough to be there as a player through good and bad times as part of the original Busby Babes.
"I left in 1967 and was asked to return to Old Trafford in 1979 by the late Dave Sexton.
"I saw the good, the bad and the ugly for want of a better expression."
Gregg described the qualities that he felt had underpinned the coaching success of the Scot, who amassed 38 trophies during his career at Old Trafford.
"My opinion is that he is very earthy, he is a hell of a good supporter," he added.
"He is not a high-flyer, he doesn't speak coaching jargon, he speaks common sense, which players understand."
Supporter
He said Ferguson's ability to rebuild an instititution had been evident when the former Manchester United chairman, Martin Edwards, sent Gregg to meet Ferguson more than 30 years ago.
"Sir Alex was at Aberdeen," he added.
"I sensed in him then the manager he was to become and that is not talking in hindsight.
"He was not one of these media managers, next thing we were in the dug-out.
"He wasn't a flash Harry, he was like a supporter wrapped up in the game."
Gregg, a former Northern Ireland international, had a 10-year stint with United as a player, making 247 appearances.
Last year, Ferguson brought over his star-studded squad to play an Irish League Select in Belfast for Gregg's testimonial.