Pine marten 'face Mourne mountains extinction'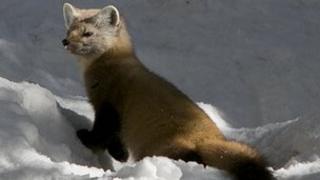 A conservation study has found that the pine marten may be facing extinction in the Mourne mountains.
Pine marten are about the size of a cat and are habitat specialists, requiring woodland to survive.
Due to their rarity, they are fully protected by law and are a conservation priority species in Northern Ireland.
The study estimated that the total breeding population of pine marten in the entire Mournes was 23, with only nine females identified.
It was also noted that pine marten appeared to be breeding in only a few forests in the Mournes.
"A breeding population in the low 20s is critically small and indicates that the pine marten population in the Mournes is in a precarious state," Dr Declan O'Mahony of the Agri-Food and Biosciences Institute (AFBI) said.
"In the absence of evidence to the contrary, their future existence in the region may be in question."
Potential threats to the population include extreme weather, inbreeding and forest management practices.
"If even a few breeding females are lost in the Mournes then the pine marten population may face a real threat to its survival," Dr O'Mahony said.
"The recent extreme cold and snow could have had a major impact on the pine marten and other wildlife, similar to the major impacts seen on farm livestock."
Other recent studies carried out by Dr O'Mahony suggest that there may only be 320 pine marten in Northern Ireland.
"We need to get serious about the conservation of our rare wildlife species of which pine marten should be seen as a priority," Dr O'Mahony said.
"The pine marten population is very small in Northern Ireland and we urgently need research on this species to understand its ecology, distribution, local abundance and population trends to ensure its long-term viability."