Derry petrol bomb attack victim's family 'devastated'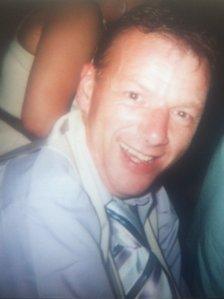 The family of a man set on fire in a petrol bomb attack in Londonderry have said they fear he will not recover from his injuries.
Thomas Curry sustained 40% burns to his body after his home in Benvarden Avenue was attacked on Friday night.
Three men and a woman arrested in connection with the incident have been released on bail.
The victim's brother Patrick said he was devastated by the extent of the injuries.
"We didn't really know until we got into the hospital and they let us in to see Thomas and we saw then the extent of the burns," he said.
"It was unreal to see him lying there the way he was, sort of unrecognizable. It's very upsetting. He's very seriously ill, he's fighting for his life in the Royal Victoria."
Two attackers broke a window and threw the petrol bomb at Mr Curry's home at around 23:10 BST on Friday.
Mr Curry was rescued from the house by two neighbours.
Thomas' younger sister Christine said it was "awful" to see his injuries.
"You don't even recognize him, you wouldn't think he was your brother," she said.
"If you're looking at him it's awful. His head and his face and his neck are all burnt, his arms and his hands. He can't even open his eyes, they're all swollen."
'A gentleman'
Another sister, Noreen Duffy, said it was "hard to take" that somebody could have inflicted such injuries on her brother.
"He looks like a complete stranger with the swelling and the extent of the damage he's got to his body," she said.
"I was standing looking at him yesterday and I was thinking when he comes around, if he comes around, he's going to have a lot to cope with. He's going to have to accept his face. He'll probably have to get skin grafts, there's that much burning to his body."
Noreen described Thomas as "very timid".
"He's the sort you'd have to speak to him first, he's that shy. He's a very shy person, he's a gentleman, he wouldn't harm anybody," she said.
Philomena Dinsmore echoed her sister's comments.
"He was that soft and kind-hearted, it's very difficult for our family," she said.
"I can't understand it, he's a gentleman, he wouldn't do anybody any harm that's why I'm so shocked and angry at it."
Police are treating the attack as attempted murder. Chief inspector Jon Burrows said officers are looking at mistaken identity as one line of inquiry for the attack.
"Certainly that is one line of inquiry, because Mr Curry is entirely innocent and of course we're keen to hear what the motive for this was," he said
"No motivation, no background, justifies the action that was taken, but it would help us make sense of it, it would help our investigators make progress.
"I can reassure the public that our most senior detectives are investigating this, but we're still very early in the investigation and I need the community to give us the information about who did this."