Kenyan Joel Kipsang Kositany wins Belfast City Marathon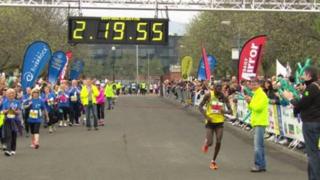 The Belfast marathon has been won by Kenyan Joel Kipsang Kositany in a time of 2.19.27.
The women's race was won by Ukraine's Nataliya Lehonkova in a record time of 2.36.50.
More than 17,500 people took part in the event which began at the front of the city hall at 09:00 BST.
A short silence was held ahead of the event in memory of those killed and injured in the bomb attack at the Boston Marathon last month.
The event has been held for 31 years.
Roads around city hall were closed between 06:30 and 10:00 BST and four roads were closed for relay runners to change over. These were Bridge End (06:00 - 14:00 BST), Hillview Road (09:00 - 14:00 BST), Gideon's Green and Corporation Street (both 06:00 - 15:00 BST).
Ormeau Embankment will be closed all day, from 07:00 until after 17:00 BST.
A park and ride shuttle bus will be provided for families and friends of the 17,500 runners to go to the finish area.
It will go approximately every ten minutes between city council car parks on Ormeau Avenue/ Cromac Street and the finish line at Ormeau Park.
Motorists can call the Traffic Information and Control Centre on 08457 123321 for updates on the day.