Disabled boy separated from family in homeless ordeal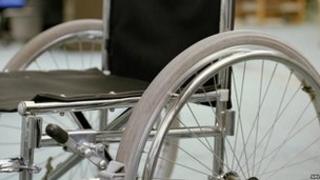 An eight-year-old boy with severe disabilities has been separated from his family and put into emergency care because they are homeless.
Danielle Fischer, her husband, their son Jack and his sister, had lived in a three-storey rented house in Dundonald.
But carrying Jack up and down stairs was becoming extremely difficult.
The Housing Executive said they were searching "each and every day" to find the Fischers a suitable property.
Mrs Fischer wants to be reunited with Jack, but the executive cannot find the right home to suit his specialist needs.
"My son is in a wheelchair, it was back breaking work," she said.
"Two years ago, I was assessed at home. The girl came out and said the house was completely unsuitable and classed us as homeless."
The Fischers gave the executive two months' notice that they needed accommodation. The executive found them a house but it was deemed unsuitable by occupational therapists.
When the two months were up last Friday, the family presented themselves as homeless. There was no suitable accommodation for them.
Jack went into emergency respite care. The rest of the family were offered a hostel in Downpatrick. But it was too far away from Jack.
They moved instead into Danielle's father's one-bedroom apartment in Dundonald.
'Pressures'
"We are stuck here until the Housing Executive gets us somewhere," said Danielle.
"All Jack needs is a ground floor flat. I don't understand why this has happened. It is very cramped in my dad's flat. He is sleeping on the sofa and my daughter is in a travel cot. Jack is in Musgrave Park. He does not understand.
"It seems like everybody is doing everything they can, but nothing is getting done."
In a statement, the executive said it had been working for some time to find suitable accommodation for Jack's very special needs.
"The Housing Executive fully understands the pressures that Danielle and her family are facing and, to that end, we are searching each and every day to find a suitable property which will allow Jack to be at home with his family.
"We are also working closely with social services, senior occupational therapists and Homecare to bring about a speedy solution," the statement said.
Meanwhile, Agnes Lunny from the charity Positive Futures, said specialist accommodation was "not plentiful" in Northern Ireland.
"There are a number of people across Northern Ireland in similar situations," she said.
"Finding the right accommodation for children and adults with complex needs is a real difficulty. The issue is serious."