Poots to meet trusts over care home closures 'disaster'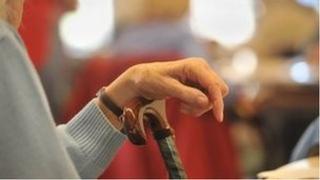 Health Minister Edwin Poots is due to meet health bosses later to discuss the potential closure of their trust care homes in Northern Ireland.
Mr Poots said the way the issue had been handled was "a disaster".
He was speaking after a third health trust confirmed on Thursday that it planned to shut all of its homes.
NHS care homes in the northern, southern and western trust areas have been earmarked for closure.
Mr Poots has apologised to those elderly people who have been distressed as a result of the closures.
He said the health trusts that planned to close all their homes had "overstepped the mark".
"Transforming your Care is something that received over 90% support in the public consultation. It received overwhelming support in the assembly and it has my support," he said.
"Transforming your Care identifies that 50% plus of homes will go over a three to five year period and they have overstepped the mark in looking to close 100% of homes in a short period of time."
Ulster Unionist Party leader Mike Nesbitt said on Friday that if he was the health minister, he would have resigned by now.
He told the Nolan Show on BBC Radio Ulster:"If I was the health minister, you would not have to ask me this morning if I was considering my position. I would be away."
Mr Nesbitt added: "He has a choice of saying I'm going to call in my senior managers and hold them to account and I'm going to try and portray myself as the white knight who has reversed this policy, or he can get in to his ministerial car and he can say to the chauffeur 'I want to see Letty in Limavady, I want to see Jean in Cookstown, I want to look them in the eye and I want to say I am very sorry this happened on my watch - I mucked up."
A spokesman for the DUP said Mr Nesbittt "should put his own house in order".
"His leadership of the UUP has been littered with disasters and his own minister Danny Kennedy has presided over millions being squandered on the A5," he said.
Under the Transforming Your Care reform programme, NHS services will focus on helping elderly people to live in their own homes for as long as possible, rather than providing residential care.
On Thursday, the Western trust said that its intention was to close four NHS residential care homes and defended its actions, saying it had tried to be honest with people during its discussions.
The Southern and the Northern trusts have already announced the potential closure of all their NHS residential care homes.