NI's top judge welcomes 'informed criticism'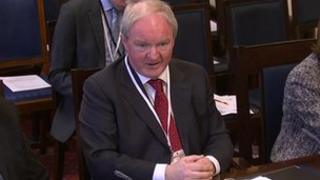 Northern Ireland's top judge has warned politicians against "generalised criticism" of judicial decisions.
But addressing the assembly's justice committee for the first time, Lord Chief Justice Sir Declan Morgan told MLAs that "informed criticism" was welcome.
Sir Declan also called on the media to ensure decisions by judges were reported in full.
He said the press should "not just opt for a headline".
In March, the DUP's Sammy Wilson called a judge "arrogant" and some unionist politicians said there was a perception of a lack of balance in judicial decisions in terms of how loyalists were treated compared to republicans.
The public row was not mentioned at the committee but Sir Declan outlined his general views on how decisions by the judiciary should be handled.
Independent
"I realise that some judicial decisions will be unwelcome and hard to understand and I have no objection to decisions being criticised as long as it is informed criticism grounded in facts, which is why the role of the press and other media is so important," he said.
"Sometimes a decision may just be wrong which is why we have a system of appeals, but generalised criticisms which add nothing to our thinking should be avoided. They can only undermine confidence in the justice system as a whole."
The Lord Chief Justice said judges should be independent but not remote.
"Judicial independence is not there to protect judges - it is there to protect all of us in a society subject to the rule of law," Sir Declan said.
"Our democratic system depends on the recognition of the independent judicial role by the political class and by informed and serious commentators.
"The press has an increasingly important part to play. Television and newspapers are often the medium by which each of the justice agencies garners an impression of the other.
"And more significantly, the press is a key source of information from which the public forms a view of the justice system.
"In reporting judicial decisions therefore, it is essential that the press do not just opt for the headline but that there is accurate and sufficiently complete reporting of the facts and the reasons leading to the decision.
"It is only in this way that a true picture of the justice system is obtained."
The Lord Chief Justice spent more than an hour answering questions from the committee.
It has not happened before, but Sir Declan suggested it should be an annual event.