Specialist Joinery Group creates 35 jobs in Maghera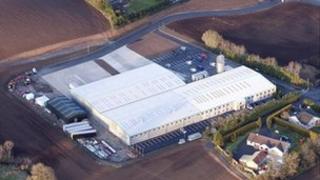 A family-run furniture company in County Londonderry is creating 35 full-time jobs in a £3m expansion.
Specialist Joinery Group was founded by the O'Hagan family in Maghera in 1988 and currently employs 77 people.
The firm designs, manufactures and fits bespoke furniture for the construction sector and has worked on projects in Europe, America and the Middle East.
In Northern Ireland, it has supplied products for Titanic Belfast and the South West Acute Hospital, Enniskillen.
The company designed and fitted bespoke joinery worth up to £1m in the Titanic building, while its contract for work at Northern Ireland's newest hospital was worth more than £3m.
Its other projects have included supplying bespoke furniture for Dublin airport, the Guildhall School of Music in London and Addenbrookes Hospital, Cambridge.
The investment and jobs announcement comes as the firm celebrates its 25th year in business.
At a ceremony in Maghera later, it will officially open its new 65,000 sq ft manufacturing facility.
In a statement, the company said: "Increased client demand prompted this significant multi-million pound investment in the facilities and production capacity will see the company confidently develop and continue to growth over the next 10 years."
Invest Northern Ireland has offered the firm £350,000 towards its expansion.