Clifton Street Orange hall attacked with paint bombs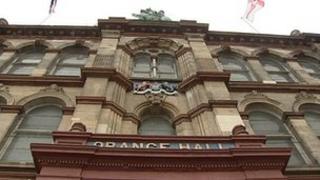 An Orange hall close to Belfast city centre has been attacked with paint bombs.
The attack on Clifton Street Orange hall was reported to police shortly before 09:00 BST.
In a statement, Belfast County Grand Orange Lodge said it was the "latest act of vandalism" on the building.
It added that the hall was "targeted on numerous occasions last year following parades in the area", and has blamed republicans for the paint attack.
Belfast County Grand Master, George Chittick, claimed it was a deliberate attempt to raise tensions.
"Brethren in north Belfast have made great strides to make the hall a community facility for all and this attack was clearly carried out by people who have no respect or tolerance for a differing viewpoint.
"It is time for such wanton vandalism to stop, once and for all," Mr Chittick said.
A police spokesman said they were appealing for anyone with information about the attack to come forward.