Edwin Poots under pressure over care homes closures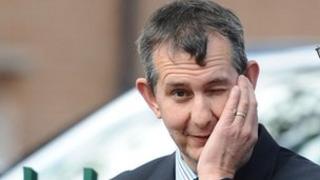 No football manager likes receiving the dreaded vote of confidence from his chairman.
Still less do they like having to publicly apologise to fans.
Edwin Poots is not a football manager but he is an Northern Ireland Executive minister, manager if you like, of the most difficult department at Stormont.
And now both indignities have befallen him in what is fast becoming the greatest crisis of his political life.
Apology
The potential closure of scores of National Health Service residential homes across Northern Ireland has succeeded in doing something that rarely happens - it has united people and politicians in disgust.
The plans have been made by health trusts. But as Peter Robinson, Edwin Poots' party leader and the first minister, said, the minister has the ability to "call decisions in."
When Mr Poots appeared on Radio Ulster's Talkback programme to apologise for the way the situation has been handled, no-one spared him.
Certainly not a succession of callers, some of them apparently DUP voters, and certainly not the programme's presenter, William Crawley.
Crawley put it to Mr Poots: "This is a disaster for you politically."
The minister replied: "Certainly the handling of this has been disastrous and I accept that."
A little earlier Mr Robinson and the deputy first minister, Martin McGuinness, appeared together on a visit to Londonderry and left no-one in any doubt that they felt things had gone far enough.
'Focussed'
Saying that the "fear and anxiety" shown by old people on television screens was "unacceptable" Mr McGuinness added: "Edwin is health minister and the trusts need to sort this out as quickly as possible."
Both men were asked if they had confidence in Edwin Poots as a minister.
Mr McGuinness answered first saying: "Well, he's the minister," before adding that health was the most difficult department in the Executive.
He pointedly didn't say he had confidence in Mr Poots although he did say he was sure he was "very focussed" in trying to resolve the problem.
Mr Robinson said: "Well, I don't like getting into situations where we're giving votes of confidence.
"Edwin is a first class minister, an exceptional, caring minister as well and while the trusts have their processes... and operational responsibility... the minister has the ability to call decisions in and I have no doubt if the minister feels that the trusts have not done the right thing that he will call such a decision in."
Is that a vote of confidence? Well possibly...
It is not the first time in his career that Edwin Poots has been under pressure.
In 2008, Mr Robinson reshuffled him from his post as minister of culture, arts and leisure.
Pressure
At the time there was a suspicion he had been removed because of his support for the idea of a multi-sports stadium at the Maze in his Lagan Valley constituency.
Whether or not that was the case his re-emergence as health minister was a triumph. It showed that not only did Peter Robinson have confidence in his abilities but he trusted him with one of the most difficult jobs in local politics.
Now, once more, Edwin Poots finds himself under pressure on an issue that provokes even more emotion than a sports stadium at a controversial location.
Some callers to Talkback said they would never vote DUP again. That kind of thing makes politicians, and party leaders, very nervous.
A DUP councillor in Ballymena, Billy Henry, took to the media to describe the possible closure of a care home in the town as "a despicable act of betrayal".
Of course, neither that decision, nor any of the others, was taken directly by Mr Poots. He does appear, however, to be taking most of the blame.
Perhaps it was also an own goal that on Wednesday lunchtime Edwin Poots believed he could take time away from his desk to join a DUP delegation meeting the IFA over the decision not to play God Save the Queen at the Irish Cup final.
When Peter Robinson appointed his current ministerial team he said that, at an unspecified time, Edwin Poots would be replaced as health minister by Jim Wells. Sammy Wilson was also to be replaced as finance minister by Simon Hamilton.
If it was to happen any time soon it would look like Mr Poots was leaving under a cloud. He needs to act quickly.