Pavarotti: 50 years since singer's forgotten UK debut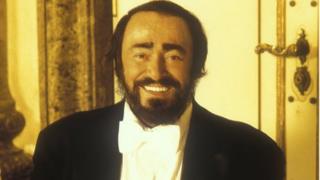 Fifty years ago, on Tuesday 7 May 1963, a young, relatively unknown, Italian opera singer was waiting nervously in the wings of Belfast's Grand Opera House, about to make his professional UK debut.
The young tenor had already picked up some small roles in Italy and across Europe. As well as being his professional UK debut, this was also his first time performing in Puccini's Madama Butterfly.
That nervous young tenor was Luciano Pavarotti.
Little did the rest of the cast know that their young star would go on to become one of the world's greatest opera stars, selling millions of albums and selling out shows across the world.
He was performing in Belfast as part of Opera Week, which had been organised by the Grand Opera Society, a group of local singers who fundraised to bring over Italian singers to perform in their shows.
'Big rugby player'
Aspiring soprano Margaret Smyth played Kate, the American wife of Pavarotti's character.
"I had absolutely no idea who he was. When he opened his mouth I just thought that voice is for the top," she said.
"When he appeared for rehearsal he was like a big rugby player. He wasn't anywhere near as fat as he eventually became but he was a very pleasant person and very easy to work with. It wasn't until he opened his mouth that we got a real impression of this fantastic voice.
"He wasn't a wonderful actor but then many opera singers aren't. I think I probably include myself in that but you just listened to the voice.
Nan Murray, who was also in the show and played a minor role as well as being in the chorus, also recalls the first time she heard the tenor sing in rehearsal.
"You felt this sort of shiver, a feeling, a fantastic feeling when he started to sing. He was such a lovely man, but the voice just blew you away. It really did it just soared," she said.
The show was to open on 7 May 1963 and Nan remembers how the audience reacted when the first heard the singer perform.
"On the first night people came they didn't know what they were going to hear and they heard this magnificent voice and at the end the place just erupted.
"I really don't think people had heard a voice like that before. The audience became very animated and were clapping and whistling when he came on for his curtain call," she said.
'He spoke no English'
Pavarotti had not quite picked up enough English to be able to have a conversation with Margaret or Nan.
"He spoke absolutely no English!" recalls Margaret, "probably 'yes' and 'no' or something like that. His English wasn't great but it vastly improved obviously because he began working in other theatres like the Met and Covent Garden."
Six months after the Belfast performance, Pavarotti landed a role covering for Giuseppe di Stefano in La Boheme in London's Covent Garden.
Margaret travelled to London to see the singer again and caught up with him at stage door after the show.
"We went round to see him and when he came out, we just said 'Hi Luciano'. He looked across and he saw us and shouted 'Belfast' and came over and threw his arms around us. It was a bit of a surprise that he remembered us," she said
In the following years it was this Covent Garden performance that some critics and publications would cite as Pavarotti's professional UK debut.
"I realised it was in the Gramophone that he made his debut in Covent Garden. I was very cross and I wrote them a letter saying assuming we are part of the UK, Pavarotti made his UK debut six months previously in Belfast," said Margaret.
"To give them credit they did publish the letter and it was corrected."
'Wonderful voice'
Pavarotti would next return to Belfast 36 years later in 1999 as one of the biggest opera stars in the world to perform to 12,000 in the Stormont estate.
The singer spoke to reporters at a news conference and settled any debate over where his UK debut might have taken place.
"I made my debut here in one opera with Butterfly. I sang Butterfly here for the first time. But then Covent Garden take me and did not give me the time to come back here," he said.
Before his professional debut, a teenage Pavarotti had performed, as part of an Italian male voice choir, at Llangollen eisteddfod in Wales, in 1955.
Pavarotti would not return to Northern Ireland again and he later died in 2007, following a battle with cancer, aged 72.
While the world may remember him as a maestro for the masses, Margaret and Nan still hold close their early memories of the star.
"Even to this day I'm quite proud to say I have sung on the same stage as him. I have sung in an opera with Pavarotti. It's amazing and I thoroughly enjoyed it," said Nan.
"Once someone is gone, they remember the person and they remember the voice but the interest eventually fades, as it should. You remember the person but you can't resurrect them," said Margaret.
"It was a wonderful voice and gave a lot of pleasure to many, many people."