Interest-only mortgage shortfall 'big problem' for NI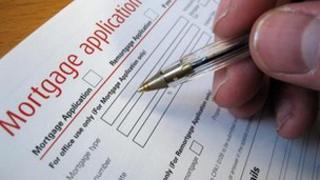 More than half of people in Northern Ireland with interest-only mortgages will struggle to pay off the lump sum at the end.
Forty per cent of mortgages in Northern Ireland are interest-only.
However, because the housing crash was steeper and faster than the rest of the UK, more people in Northern Ireland have found themselves in negative equity.
The average shortfall could be up to £72,000.
The problem for a lot of people was caused by the assumption that they could get a mortgage, just pay off the interest and their house would continue to gain in value.
If necessary, they could sell the house to pay off the mortgage.
Regulator
However, the housing crash has meant a huge percentage of people are now in negative equity.
Many on interest-only mortgages now face the prospect of a sudden, dramatic rise in payments, as they start paying off the capital, when their mortgage term ends.
The figures have been revealed after the city regulator, the Financial Conduct Authority (FCA), issued a warning about interest-only mortgages.
It said hundreds of thousands of people throughout the UK would struggle to clear their loans.
Some 2.6m UK householders have the mortgages but the FCA said "estimates... suggest" nearly half will not have savings or other funds to cover the final bill.
Lenders will now step up warnings to homeowners to prevent payment shocks.
Another issue facing many who took out interest-only mortgages is the shortfall in endowment policies.
Homeowners who took out endowment mortgages in the late 1980s will receive final confirmation this year of the shortfall in the expected payout of the policies.
Alternative plans
An endowment mortgage is a monthly savings plan, usually invested in shares and property, which was designed to pay off the home loan at the end of the term.
At the end of the 1980s, there was a boom in both the UK housing market and stock market, prompting those selling endowment mortgages to make very high predictions of investment growth in endowment savings plans.
By the middle of the 1990s, it became obvious that these expectations were overblown and that the endowments would not cover the final sum at the end of a 25-year mortgage term.
Many people cut the link between the endowment and their mortgage, making alternative plans to pay off their home loan with other savings, investments, or a tax-free lump sum from their pension. Others have switched their mortgage to a repayment model.
Now those who did not switch are facing a bill for the difference between their debt and their endowment plan.