Almost 70,000 people in NI living with cancer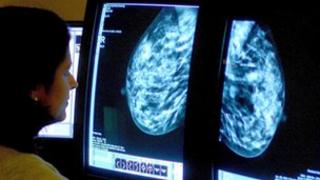 Nearly 70,000 people in Northern Ireland are living with cancer, or have had a cancer diagnosis in the last 18 years.
The figure - 69,377 - is contained in a report by the Northern Ireland Cancer Registry, in association with Macmillan Cancer Support.
There has been an annual 3.5% rise in the numbers living with cancer in NI since 1993.
The numbers who died from cancer between 1993 and 2010 is 82,479.
Living With and Beyond Cancer provides the first ever detailed picture of cancer prevalence in Northern Ireland, which is defined as the number of living people who have had a cancer diagnosis.
Researchers found the most common cancer is non-melanoma skin cancer (NMSC) but due to its high incidence and excellent survival rates, this form of cancer is rarely fatal.
After this, prostate cancer is the most prevalent among men (6,646 men) while 11,393 women in Northern Ireland have had breast cancer.
Lung cancer, which is one of the most commonly diagnosed cancers, is only the ninth most prevalent cancer due to its poor survival rate.
The greatest percentage increase in the years between 2002 and 2010 was among prostate and oesophageal cancer patients, both of which saw the number of survivors more than double over the nine-year period.
Among women, the greatest percentage increase was for uterine and kidney cancers.
Excluding NMSC, the number of people living in Northern Ireland following a diagnosis within the last 18 years was 45,265.
The report also analysed the change in prevalence over time.
It noted that the number of male cancer survivors (excluding NMSC) increased by 6.2% per year between 2002 and 2010, while for females it was 3.2% per year.
Dr Anna Gavin, director of Queen's University's Northern Ireland Cancer Registry, said: "This report lets us see that cancer is no longer a death sentence for everyone who receives a diagnosis.
"There are many people in Northern Ireland with cancer who live their normal lifespan. Importantly the information in this report will help those working to improve services for those living with cancer.
'Treatment advances'
"The increases in cancer prevalence can be attributed to several factors, including an increasing numbers of cancers diagnosed as the population ages, the increasing rise in lifestyle-related risk factors including obesity, and also changes in diagnostic procedures, for example the rise in diagnosis of prostate cancer due to PSA testing.
"In addition, improvements in survival related to treatment advances and screening and also reductions in the number of deaths from other diseases such as heart disease have also contributed to the increase in the number of cancer survivors."
Heather Monteverde, of NI Macmillan Cancer Support, said: "Cancer remains a major public health issue in Northern Ireland but the cancer story is changing.
"It used to be the case that either people were cured of their cancer or they died, often very quickly.
"With the number of cancer survivors increasing, we now know that many people need more support after treatment to meet their ongoing needs and to live with cancer as a long-term illness."
The report also highlighted that lung cancer was the most common cause of cancer deaths between 2006-2010, with an average of 887 people dying from the disease in each of those years, out of a total of 1,030 cases diagnosed per year.
For breast cancer during the same time period, there was an average of 1,155 breast cancers diagnosed each year, with an average of 301 people dying.
Survival from breast cancer is rated very good, with 94.9% of women diagnosed in 2001-2005 surviving one year, and five-year relative survival for female patients standing at 81.3%.
A report on the care of ovarian and cervical cancer patients diagnosed in Northern Ireland 2010, with comparisons to 1996 and 2001, will also be launched by Queen's Northern Ireland Cancer Registry on Thursday.