New Northern Ireland council boundaries a step closer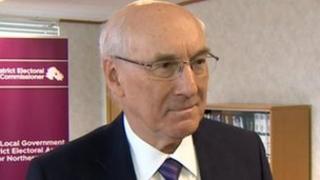 The long-running process of replacing Northern Ireland's 26 councils with 11 new bodies has cleared another hurdle.
A report has been published setting out suggested boundaries for the new councils' building blocks, known as district electoral areas.
There will be 120 fewer councillors after the shake-up.
The report will be carefully studied by politicians trying to decide whether to stand again or to take a severance payment before retiring.
The 11 new local government districts contain a total of 462 wards.
Not elected
District electoral commissioner Dick Mackenzie has recommended that there should be 36 five-ward electoral areas, 26 six-ward areas, and 18 seven-ward areas.
Each ward represents a seat on the council, although councillors are not elected to a particular ward.
They are elected to represent the district electoral area by a system of proportional representation.
Thus an electoral area will be represented by five, six or seven councillors, depending on the number of wards it contains.
Mr Mackenzie said there would be an eight-week period for consultation and objections.
"As a result of those I may or may not hold public inquiries, which would be held in early autumn," he said.
Mr Mackenzie said he would consider reports of the inquiries and consult the secretary of state by December.