Strong Northern Ireland opposition to A-level changes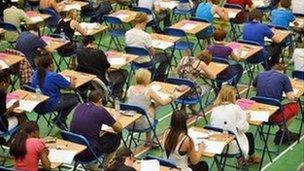 A consultation on A-levels in Northern Ireland has shown little support for changes being introduced in England.
The education secretary, Michael Gove, has decided to revert to a two-year term of study leading to one set of A-level exams.
In England, the AS exam will no longer be the first stage of A-levels, but will itself be a qualification.
Stormont official Dr David Hughes told the education committee that many school principals opposed the plan.
He said they did not want to return to a "linear" form, with exams at the end of a two-year course.
This change in England will take effect from 2015.
Dr Hughes also said there was no support for the position taken in England that the AS-level exams would remain, but would no longer be taken after a year or count towards a full A-level.
It would instead become a stand-alone qualification, taken alongside full A-levels after two years in the sixth form.
'Stress importance'
He said the Northern Ireland education minister, John O'Dowd, was concerned that Northern Ireland students could be disadvantaged when they applied for university places outside Northern Ireland and this was something also evident from the consultation.
"Those involved in the consultation events were very keen to stress the importance of the qualifications being portable throughout these islands and beyond," he said.
The official added that Northern Ireland was not going to "blindly follow decisions made elsewhere".
"If changes are being made to A-levels in England which are based on reasons which have no particular educational basis, we would want to examine that and ask if it's the right thing to do here," he said.
Upper Bann UUP MLA Jo-Anne Dobson said the consultation had also shown a clear consensus that the number of re-sits should be reduced.
Roger McCune from the Council for the Curriculum Examinations and Assessment said there was a misconception that there was a "constant re-sitting".
Dr Hughes said there were pros and cons to re-sitting and asked: "If there were no re-sit opportunities, is it fair to someone who crashed and burned the first time?".
The consultation will be used by officials to recommend some changes to the education minister.