Northern Ireland Electricity dispute referred to Competition Commission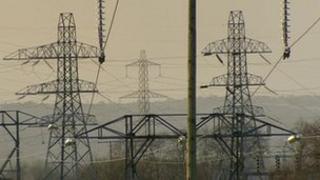 The Competition Commission has been called in to settle a dispute between Northern Ireland Electricity (NIE) and the utility regulator.
The resolution of the dispute will affect consumers' electricity bills.
NIE, which owns the electricity network in Northern Ireland, wants to increase substantially the amount of money spent upgrading its infrastructure.
However, the regulator said the plans would add too much to bills and has referred the matter to the commission.
NIE has been strongly critical of the regulator on the issue.
The regulator, Shane Lynch, defended his approach and his decision to refer the dispute to the business watchdog.
Mr Lynch said: "That is is the democratic process. That's how regulation is set up and I think it is in the interests of all stakeholders that we get this outcome now from the Competition Commission.
"There are a lot of issues that need to be addressed and this is normal process for addressing those issues," the regulator added.
The commission will make a final ruling on the dispute within six months.