Western Health Trust may close all its care homes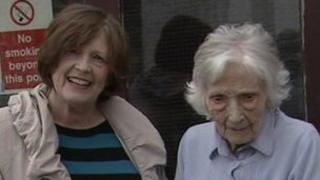 The Western Health Trust is proposing to close all its residential care homes, the BBC has learned.
It follows similar moves by the Northern and Southern health trusts, which announced last week they have decided to close the homes they run.
The homes under threat are Rectory Field and Willow Street, both in Londonderry, and Thackeray Place in Limavady and Strabane's Green Field.
There are 130 places overall but only 73 men and women live in the homes.
Some have lived in the homes for several years.
Josie McCann's mother is 99 and lives in Thackeray.
She said it was her mum's home and no-one had the right to take it off her.
Heard from journalist
"The care they get in there is unbelievable. The staff are fantastic, every last one of them," she said.
"I honestly believe that if my mother was moved from there, it would kill her."
Ms McCann said she had not been informed by the authorities about the possible closures but had heard the news from a journalist.
She said she would say to Health Minister Edwin Poots: "Do you care, do you really care, minister?"
She said her mother was now in her 100th year and could not be expected to live much longer.
"I would like the last months, or years, if she would even have years, to be spent in peace," Ms McCann said.
"Can you imagine the stress it is going to cause to an old lady of that age?"
Western health trust officials were expected to brief residents and their families in Thackeray on Tuesday evening.
The health minister announced in February that over 50% of residential homes would close under government plans.
Announcements in the past seven days suggest that figure will be closer to 100%.
On Tuesday evening, the chair of the Northern Ireland Assembly's Health Committee, Sue Ramsey, called on Mr Poots to take a firmer line with trusts on the issue of residential care homes.