Six NATO ships on stop-over in Belfast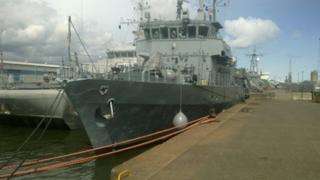 Six NATO ships are on a four-day stop-over in Belfast between training exercises at sea.
The group arrived after an intensive two-week period off the west coast of Scotland, known as Exercise Joint Warrior, which involved more than 50 ships.
The ships docked in Belfast are from Poland, Belgium, Germany, Netherlands and Norway.
They belong to NATO Mine Countermeasures Group One.
The commander of the group is Polish officer Commander Piotr Sikora.
He said most of the crew had been enjoying the sights of Belfast during their period of "rest, recreation and replenishment".
"It's very important, especially after a huge exercise, because during the Joint Warrior Exercise we spent two weeks at sea, including the weekend.
"And the weather was really not good, (there was) a gale almost for 10 days, a very exhausting exercise.
"This period is to see the beautiful city of Belfast, to do some sightseeing, maybe to taste some local food, Guinness, as well, of course."
The ships are not open to the general public but the crew were welcomed to the city by the lord mayor Gavin Robinson.