Nurses working in 'culture of fear' says union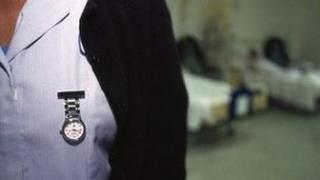 The Royal College of Nursing has said some of its members are working in "a culture of fear and intimidation".
It follows the results of a survey of nurses across the UK.
It indicated that one in four nurses in Northern Ireland were discouraged from raising concerns about patient care.
The RCN poll also found that nearly half of those who had raised concerns about patient safety in Northern Ireland had done so in the past six months.
'Victimisation'
Nearly half (47%) of the issues raised were about staffing levels, and almost a quarter (24%) were about patient safety.
NI RCN director Janice Smyth said she was "deeply concerned" about the survey.
"Shockingly, it revealed that nearly half (49%) of those who raised concerns said their employer took no action and one in two (50%) nurses based in Northern Ireland said worries about victimisation or reprisals would make them think twice about whistle-blowing," she said.
"Despite the importance placed upon raising concerns over the past few years, nurses are still experiencing a culture of fear and intimidation if they try to speak out. This is completely unacceptable and, potentially, could put patients at risk."
More than 8,000 nurses across the United Kingdom took part in the survey conducted by polling company ICM.