Wedding party injured as bus overturns in Lisburn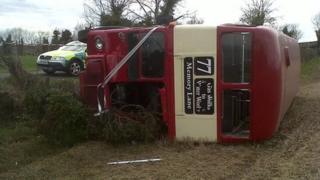 A double decker bus carrying wedding guests has overturned into a field just outside Lisburn.
The accident happened on Ballynahinch Road on Saturday.
The bus was carrying 60 people - 14 were taken to hospital. Two were moved on spinal boards as a precaution - the other 12 suffered minor injuries.
Forty-six people were discharged at the scene by ambulance crews. One person remains in hospital. It is understood their injuries are not serious.
Eleven ambulances attended the scene of the crash.
Police are investigating the circumstances of the accident, which happened at 16:10 BST.
Escape
The bus was taking guests from the church service to the wedding reception when the crash happened.
Passenger Ruth Green said: "We were going along the road and everybody was just chatting away, and then we just veered off the road and into the ditch and then the bus just fell over into the field.
"It was quite slow motion so it was quite scary for everybody involved.
"The bus fell on its side and it was just a mad scramble to get out of the bus. We could go out both exits and some people had to break glass to get out of the bus as well.
"I think I was just thinking what is happening? And then it was a bit crazy for a moment. Everybody was just scrambling to try and get out of the bus, trying to get off each other - people were on top of me, I was on top of someone else and you're just trying to get out of the bus."
When the passengers had freed themselves from the bus, they started checking each other for injuries.
"Suddenly there just seemed to be fleets of ambulances and police checking that everything was ok," Ms Green said.
"There were a few people with facial and hand injuries. I believe there are a couple of people who have gone to the Royal Victoria Hospital with slightly more serious injuries but I don't know the details."
Quick response
Ms Green said those guests who had not been injured had managed to make it to the reception.
"I believe most people have got back to the reception and hopefully we'll all head on there now as well so I'm sure it will be a lovely happy day, it's just a shame about this," she added.
John McPoland from the Ambulance Service said the emergency services were at the scene within minutes.
"Thankfully when we got there, although the scene was pretty chaotic and people were very worried about each other, nobody was seriously injured," he said.
"Thanks to the prompt actions of our crews assessing people and reassuring them that they were going to be fine, order was restored quite quickly.
"Seven people were sent to Lagan Valley Hospital and seven were brought to the Royal Victoria Hospital.
"We don't believe anyone suffered any life-threatening injuries."