Ballymoney 'worst place in NI' for heart disease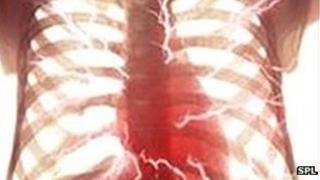 People in Ballymoney, in County Antrim, are more likely to die from heart disease than anywhere else in Northern Ireland, according to research.
It is ranked number two in the top 10 places in the UK for poor heart health.
The statistics, revealed by the British Heart Foundation, ranked the Ards and Moyle areas seventh and eighth in the league respectively.
The British Heart Foundation said heart disease was the single, biggest killer in Northern Ireland.
Ballymoney residents are more than three times more likely to die from coronary heart disease than those in the Kensington and Chelsea in London, which the charity said was the best place for heart health in the UK.
The figures were released on the launch of the British Heart Founation's Fight For Every Heartbeat campaign.
Stephanie Leckey from the charity said: "These latest figures expose staggering inequalities in deaths from heart disease across the UK.
'Deadly disease'
"But it's unacceptable that people continue to die from heart attacks, regardless of their postcode.
"We urgently need the country to unite behind our quest to fund research to eradicate this deadly disease wherever it strikes."
A UK-wide campaign has brought together heart patients and scientists to hail research as the weapon needed to win the battle against heart disease.
The TV advert also features the moment that footballer Fabrice Muamba suffered a cardiac arrest during an FA Cup match.
Professor Mark Kearney, a cardiologist, said: "I hate seeing the impact of heart disease on children, parents and grandparents - my experience in clinic is an everyday reminder that heart disease devastates too many lives.
"I'm searching for a breakthrough to put an end to the suffering. But medical research costs money and BHF Northern Ireland urgently needs support to rid the country of heart disease and the misery it brings."