Boston Marathon: Eamon Loughran recalls fears for his wife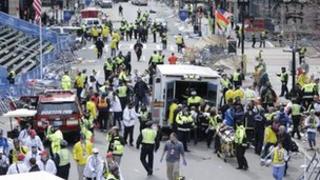 A former boxing world champion has described how he prayed as he waited to find out if his wife was safe after the Boston explosions.
Eamon Loughran, from Ballymena, County Antrim, had just crossed the finish line when he heard the first blast.
He had arranged to meet his wife there but faced a three-hour wait before he was reunited with her.
"I was crying, I was thinking the worst because that's where I told her to be," he said.
"I told her I would be coming in at about 15.45 but she couldn't get out. It was good fortune that they had told anybody who was going to Copley Station, because it was so busy at the finishing line area, that they had to go on to the next train stop," he said.
Mr Loughran told RTÉ radio that they both burst out crying when she walked in through the hotel door.
"She was worried about me and I was so relieved, thankful to God," he said.
"I couldn't ring home when I had been in the hotel for three hours. I didn't want to ring until both of us were OK."
"I was just no more than 50 yards over the line and I heard the explosion going up and I actually thought it was an amplifier that had exploded and I looked back and saw all the smoke and the fire," he said.
"I could see people panicking a wee bit and the police were saying keep calm, it's ok."
Uncertainty
Mr Loughran said he still was not sure what had happened until he heard a second explosion go off a short time after the first.
"I thought right this is real, this is a bomb. Get out of here quick," he said.
Mr Loughran said he felt very relieved to have made it over the finishing line but the event had left him with mixed emotions.
"I can't believe someone would set off a bomb intentionally to hurt people on such an innocent and beautiful day.
"I've done marathons before and I never experienced such joy and I couldn't get over how happy I was and how happy everybody else was.
"I think it was about a minute later I looked around and it had all changed from the most happy and joyful event ever to the most horrible and worrying time.
"They just ruined it whoever these people are. We just want to get home now and see our children."