Suwei Shang pleads guilty to manslaughter of Damien Keenan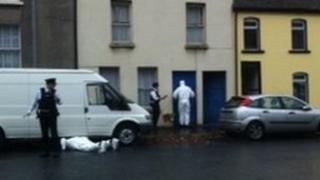 A 39-year-old woman who was charged with murdering her husband at the house they shared in Londonderry has pleaded guilty to his manslaughter.
Suwei Shang, a part-time primary school teacher, stabbed Damien Keenan in their Francis Street home 18 months ago.
She had been due to stand trial for his murder, but a defence barrister asked for the charge to be put to her again.
She told the court: "I don't plead guilty for murder but I do plead guilty for manslaughter."
The couple had been married for two months when the stabbing took place on 31 October 2011.
Mr Keenan, 51, was taken to hospital where he died the following day.
Plea accepted
At Antrim Crown Court, sitting in Belfast, Shang was flanked by an interpreter throughout Friday's proceedings.
Prosecution barrister, Frank O'Donoghue QC, told the court that having spoken to Mr Keenan's family, the police and the Director of the Public Prosecution Service, he had been instructed to accept Shang's plea to the lesser offence and not to proceed with the murder charge.
After hearing how there were no police objections, Mr Justice Weir released Shang on continuing bail.
He adjourned passing sentence until May when pre-sentence probations reports, psychiatric reports and victim impact statements have been compiled.