G8 summit: Airport security stepped up ahead of meeting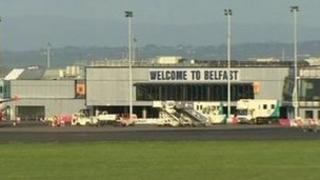 The Police Service of Northern Ireland has warned of potential disruption in and around Belfast International Airport due to the G8 summit.
World leaders will fly into the airport and travel on to their meeting at the Lough Erne Resort in Enniskillen, County Fermanagh, on 17 and 18 June.
It will be attended by eight heads of state.
The police have written to people living near the airport to inform them about the huge security operation.
The summit has been organised by the Foreign and Commonwealth Office and will be attended by the heads of Canada, France, Germany, Italy, Japan, Russia, the United Kingdom and the United States.
In a letter to residents in the vicinity of the airport, Chief Superintendent Henry Irvine said the leaders would be accompanied by sizeable delegations.
"Naturally, the increase in visitor numbers will result in some disruption to the transport network," he said.
"People travelling on 16, 17 and 18 June 2013 will be advised to leave extra time for their journey.
"Previous G8 conferences have also attracted a number of protest groups. Police will be planning for this eventuality and this may again result in some disruption to the transport network.
"As a result there will be a highly visible police presence across parts of the Antrim Borough throughout the duration of the G8 conference."
The police said that there would be a large security presence on all routes around the airport.
There will also be a "larger than normal police and security presence" within Belfast International Airport itself in the days leading up to the arrival of the delegates.
In a statement, the PSNI added: "This is necessary and unavoidable. However, local residents can be assured that police will be putting in place arrangements for access to homes and agricultural land on an individual basis for those who will be directly affected.
"These people will be contacted directly in due course."
The increased security measures will also affect traffic around Antrim, Crumlin, Templepatrick and Killead.
Vehicle checks will be carried out and anyone living, visiting or working in the area.
The PSNI has also launched G8 Facebook and Twitter sites to provide the most up-to-date information.
A number of public meetings will be held over the coming weeks and months to keep people up to date about the situation.
Security in a wide area surrounding the hotel where the summit is being held has also been increased in recent weeks with police patrols, vehicle checkpoints and security barriers.
Last month, a device containing 60kg of explosives was found 16 miles away from the Lough Erne golf resort. It was later defused.