Man held over Kieran McManus murder is released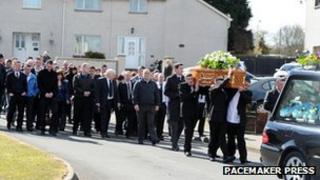 A 34-year-old man arrested over the murder of west Belfast man Kieran McManus has been released without charge.
Mr McManus, who was 26, died after being shot outside the Kennedy Way pizza shop where he worked on Saturday night.
The priest who conducted his funeral on Thursday called for no retaliation.
Several hundred mourners attended the requiem Mass at Holy Trinity church in Turf Lodge, west Belfast.
Mr McManus was shot several times at close range in a car park outside the pizza shop where he worked as a delivery driver.
Fr Brendan Smyth said: "It is understandable that among those who mourn for Kieran emotions run high.
"I plead for Kieran's death to be the end, the line drawn under these sad days."
Nothing should be said or done, he said, that might "add to the heaviness of heart, or add to the burden that has been forced upon the shoulders of Kieran's family".
"Revenge or retribution is a nasty word and a road that will lead to added heartache. For those who may contemplate such a road, I beg you don't."
Fr Smyth added: "We must allow due process takes its course, and that justice be done and those responsible held accountable for their deeds."