Mourne Mountains: Police warn of hazards as thaw begins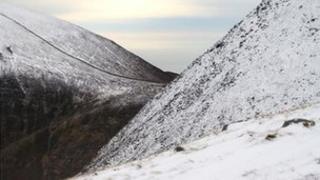 People using the Mourne Mountains in Northern Ireland are being warned about potential avalanches.
The police are urging hillwalkers and snow-sport enthusiasts to be mindful of severe conditions as the snow begins to thaw.
They are urging people to think of the risks and not to place themselves, or others, in unnecessary danger.
Ian McCracken from the Mourne Mountain Rescue team said there were some dangers for people out walking.
"It is more on the westerly slopes," he said.
"Look for build ups of snow and you can probably see them as you're driving or walking into some of those areas, you can see where the snow is blowing and it has built up on the upper slopes, so walking either above or below them, could be potentially dangerous."