Relief package of £5m made available to farmers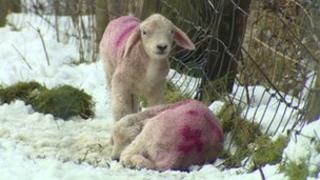 The NI Agriculture Minister has said the decision to fund a fallen stock scheme and hardship package for farmers is welcome news for the industry.
On Tuesday the Executive agreed an aid package worth up to £5m to help those who have lost livestock in the recent heavy snowfalls.
The Executive will pay for the collection and disposal of sheep which died in the blizzard.
It is not yet clear how many sheep have died as a result of the snow.
The cost of disposing of the sheep could be between £300,000 and £1m.
Hardship payments will also be made to the worst affected farms.
The terms of the scheme have not been worked out yet but it is understood a budget of £4m is being set aside for these payments.
Agriculture Minister Michelle O'Neill said; "The Executive was looking at how this could be funded and to try and find the money to bring forward that budget to support the hardship package.
"What I think we should focus on is the fact that we are signed up to providing a hardship package for the farming community."
The President of the Ulster Farmers' Union, Harry Sinclair, said support for the measures extended beyond the farming community:
"People have seen the pictures and are totally shocked and want to do all they can to help," he said.
"It's the first time people have seen this scale of devastation and the general feeling of most people is wanting to help the farmers."