Alert near Rosslea, Fermanagh, continues for third day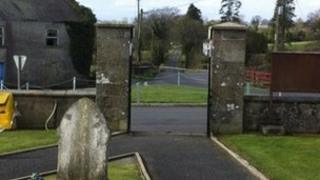 A security alert near Rosslea, County Fermanagh, is continuing for a third day.
It began on Tuesday night after a caller to a Belfast newsroom said a beer keg had been left on the Clogh Road, close to the County Monaghan border.
Police moved in to make the area safe to allow Army bomb experts to examine it.
A number of homes close to Clogh Church of Ireland have been evacuated.
Ulster Unionist councillor Harold Andrews lives a mile and a half from the scene.
"Unfortunately three or four families have had to move out," he said.
"Certainly it is causing an awful lot of inconvenience to the people in the area.
"The sexton that belongs to the church, him and his wife are an elderly couple, and they have had to move in with their daughter in County Monaghan."
Mr Andrews said it was still not clear who the intended target was.
"It's hard to know if it was meant for the security forces travelling up and down the road towards Clogh church, it's on the very border, or whether it was in transit to somewhere else," he said.
District Commander Ch Supt Pauline Shields said she recognised the inconvenience the policing operation may cause to residents however, she said her priority "was to ensure the safety of the local community and to protect everyone".