32,000 tenants in Northern Ireland face housing benefit change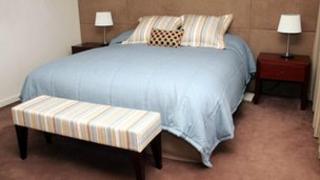 A total of 32,000 social housing tenants in Northern Ireland face moving house or having their benefits cut under welfare reform proposals.
That accounts for half of all working-age tenants in NI.
Under plans, people who have more bedrooms than they are deemed to need will be penalised.
Their housing benefit could be cut by around £7 per week for one bedroom too many and by £14 a week for two bedrooms.
They can avoid the extra payments by moving house.
However, the Chartered Institute of Housing and several other groups have criticised the plans saying there is not the right type of housing in Northern Ireland to cope with the demand.
Jim Stewart and his wife Gail live in east Belfast.
They have been in the same Housing Executive property for the last 19 years with their three sons.
Jim has MS and after waiting to be rehoused for seven years, the Executive built an extension to the house when they could not find anything suitable.
Two of their sons have now left home, leaving them with two extra bedrooms.
"We've lived here 19 years and we were on the housing transfer list for seven years before they decided they couldn't rehouse us," Jim said.
"Then they built the extension on the back.
"For seven years they couldn't find us proper accommodation - how are they going to find it now? Proper accommodation that would suit me and my symptoms?"
Jim says he and his wife simply cannot afford to pay any more rent.
"We're living on the breadline at the minute. My son goes to tech and the benefit he was getting has been stopped so we're trying to give him more money," he added.
"You hear pensioners saying heat or eat - it's basically coming down that way with us".
Caravans
There is the added problem in Northern Ireland of segregated housing.
Gail Stewart says that is a big factor for them.
"They offered us a bungalow before and that was the reason they gave us the extension because they couldn't house us.
"They offered us a bungalow on an interface. I wasn't going to move to an interface," she said.
The social development minister Nelson McCausland is on record as saying he finds some parts of this legislation unpalatable.
What he is going to be able to do differently though is not clear.
The department says it would cost £17m to break parity on this issue, that is, for Stormont to bring in different legislation and effectively break ranks with Westminster.
For Ulster Unionist MLA Michael Copeland that's a price worth paying.
"We don't have the right kind of houses to accommodate people should they wish to move," he said.
"We have the added difficulty here that doesn't exist in the rest of the UK of segregated housing.
"Segregated politically and religiously and I'm not sure those facts have been taken into account."
Gail Stewart feels her family and people like her are being unfairly treated.
"The Housing Executive moved people into these houses when their children were small - it's not their fault their children grow up into adults," she added.
"Adults move on with their own lives and leave adults with one extra room, two extra rooms - where are they getting the houses to put these people?
"There are no small houses left to accommodate these people.
"Where are they going to put them? Into caravans?"