No corporation tax decision until after Scottish referendum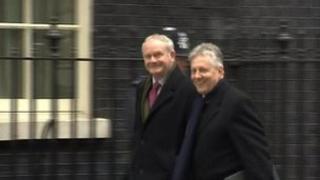 Prime Minister David Cameron has said there will be no decision on devolving corporation tax until after the Scottish independence referendum.
Northern Ireland's first and deputy first ministers met the prime minister over devolving the power to set the rate of the tax.
Stormont wants to be able to match the tax rate in the Republic of Ireland.
The policy has all-party support at the Northern Ireland executive and the backing of the secretary of state.
The deputy first minister, Martin McGuinness, said he was "disappointed".
First Minister Peter Robinson vowed to not to give up the fight for the power
But the idea is not universally supported in government at Westminster.
Labour's Shadow Secretary of State, Vernon Coaker, said Northern Ireland's economy "needs a Plan B".
"When Ed Balls and I went to Northern Ireland a few months ago, we put forward a plan for jobs and growth," he said.
'Unique challenge'
"We are proposing a temporary VAT cut, bringing forward infrastructure projects, supporting small businesses and helping to get young people back to work."
CBI Northern Ireland Chairman, Ian Coulter said: "A positive decision on corporation tax today would have provided a significant boost to confidence to many struggling businesses at this time.
"Initial comments coming out of the meeting with the Prime Minister today as to the delay in making a decision are alarming, particularly given the reason for the delay is said to be the Scottish independence debate.
"Our economy faces unique challenges and the economic rationale for devolving these powers is extremely strong. Without this decision the opportunity of transformative change will be lost."
The executive would have to compensate the Treasury for any tax reduction by handing back a portion of its annual budget.
However, supporters believe the economic boost to Northern Ireland from inward investment would outweigh the cost to the public purse.
But there are also concerns that the issue could ignite nationalist passions in Scotland ahead of the independence referendum next year.