Hyponatraemia inquiry: The day they turned off life support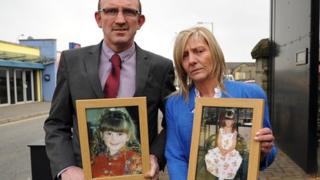 The mother of a nine-year-old girl, who died following an operation, has described the moment it was time to turn off her life support machine.
Raychel Ferguson died in June 2001 at the Royal Belfast Hospital for Sick Children, a day after having her appendix removed in Altnagelvin Hospital.
Her mother, Marie, was speaking at a public inquiry into her death.
She said she had begged her daughter to wake up.
Mrs Ferguson told the inquiry at Banbridge Courthouse on Tuesday, that on 10 June she and her husband, Ray, were told their daughter would never recover.
She said she did not know how she was going to explain to her three sons why their sister was not coming home.
"I sat in a chair with Ray beside me, the nurse lifted Raychel out on to my knee, my three sons were sitting around crying," she said,
"I begged Raychel to please wake up. This was our last chance, but this did not happen.
"The nurse nodded and I nodded back. Then I watched Raychel's rosy cheeks slowly turn to white and her nails turn blue and it was over. All I can recall then is loud sobbing and crying.
"This is an image I'll take to the grave with me.
"I made Raychel a promise the day her coffin was closed and she left home for the last time that I would not stop until I got to the truth of what happened."
Mrs Ferguson said they did not have time to grieve as the past 12 years have been spent trying to uncover the truth.
Earlier, Rachel's parents said they believed their daughter had been in the best place to be cared for.
They told the court that several hours after their daughter's operation, Raychel managed to sit up, chat, even colour in.
However, Raychel then began to vomit and after a number of incidents they were told by nurses not to worry as this was only natural.
Mrs Ferguson said she decided to go home to attend to her other children but when she returned two hours later her child was zombie-like, listless, and communicated by moving her eyes.
The family claim the nurses on duty rarely checked their daughter, something that is strongly contested.
She accused the Western health trust of killing her daughter and staging a "cover up".
She also accused the nurses of perjury.
All these accusations are being contested by those who looked after Raychel.
The inquiry is looking into the death of Raychel and four other children.
The inquiry is examining the fluid levels administered before the children's deaths.
In the case of four of the children, an inquest stated that hyponatraemia was a factor that contributed to their deaths.
Hyponatraemia is the term for a low level of sodium in the bloodstream causing the brain cells to swell with too much water.